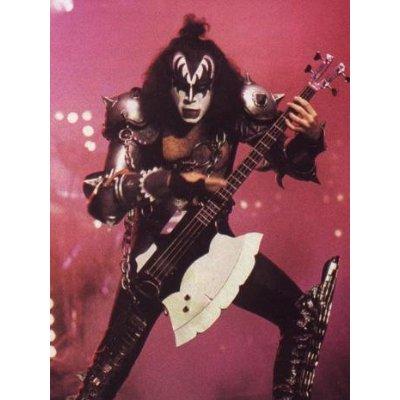 If you're a rock and roll bassist and a KISS fan, you probably would love to have the famous Gene Simmons Axe bass. KISS is renowned for having one of the most theatrical, bombastic and excessive live shows in the history of rock and roll. From their makeup to their use of pyrotechnics to their platform boots and leather wardrobes, the band was continuously searching for ways to improve the visual nature of their performances. It was only a matter of time before that spirit of presentation made its way to the instruments the band members played. Gene Simmons, a true visionary and considered by many to be rock and roll's P.T. Barnum because of his endless devotion to entertainment and marketing, again took the lead when it came to creating theatrically inspired instruments. The Gene Simmons Axe bass is the result of this flair for the fantastic that has made KISS one of the most recognizable bands, and brands, in the history of American popular music.
The History of the Gene Simmons Axe Bass
In the late 1970s, there was no bigger band in the world than KISS. With the hits Rock and Roll All Nite, Beth, Detroit Rock City, and Strutter, KISS was achieving top 40 success to compliment their always lucrative touring business. Around this same period of time, their increasing musical triumphs were also fueling the beginnings of their now legendary merchandising business. Beginning with their fan club The KISS Army, KISS licensed their image to everything from comic books and lunch boxes to board games and Halloween makeup kits. There is even a genuine KISS coffin for sale if you want to rock and roll all night for eternity! The late 1970s were the heyday for this classic American band, and with the sky being the limit in terms of fame and fortune, Gene Simmons decided to turn his energy towards creating the most rock and roll bass guitar he could imagine.
Gene hired the guitar luthier Steve Carr to design an instrument that would increase his band's visually shocking image. Bearing in mind that one of the most anticipated aspects of a KISS live show is when Simmons spits blood all over the stage, it only seems natural that his bass should resemble a weapon of some sort. In this case, the Axe bass is modeled after an "olde English executioner's axe".
Features of the Axe
First of all, the visual design is striking (no pun intended). The bottom three quarters of the bass look exactly like a well-worn and deadly sharp executioners axe. Down to the little nicks in the blade that would develop after years of lopping off the heads of murders, thieves, political dissenters and other undesirables, the detail work in the guitar's finish is exquisite. In a word, this bass looks scary. It truly looks like you could grab it by the headstock and deal a fatal blow to some poor, unlucky soul.From a technical standpoint, the bass reflects the spirit of KISS' music; it's simple and effective. The guitar has one pickup, one volume knob, and one tone knob. The Axe bass was originally manufactured by Kramer guitars and features an aluminum neck that was a common feature on many of the company's guitars from that era. The necks were designed to increase the instrument's sustain and to improve the structure and durability of the guitars.
Where to Find an Axe Bass?
If you heart is set on having an original Gene Simmons Axe bass, you may be in for a bit of a disappointment. These guitars are extremely rare and definitely not cheap. The original run of Axe basses was intended to be 1,000, but collectors feel that the actual number produced was lower than that. Many believe that there are less than 500 original Axe basses around today. Most of the guitars have been signed by Gene Simmons himself, which increases their value even more. Some of these guitars occasionally surface on eBay, but don't be surprised if the price is well over $5,000.00.
Take Precaution When Buying
Because this is such a collector's instrument, be sure you validate the authenticity of the bass you are looking at if you decide to purchase one. As with all collectable markets, the guitar market is unfortunately rife with frauds and phonies. Make sure the seller has original photos and documentation to prove the authenticity of the instrument before you agree to buy. Any respectable collector will be happy to share this information with you because they will be glad to know that the bass is going to a good home. Anyone who seems fishy probably is, so be careful!