Gene Simmons Bass Guitars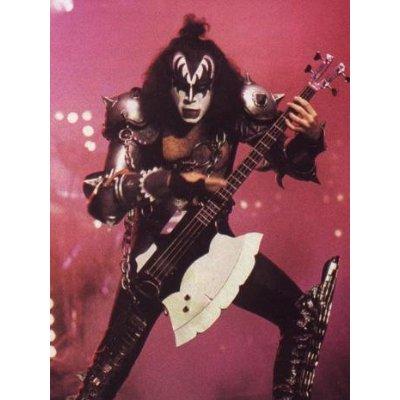 Gene Simmons bass guitars are some of the most iconic instruments in the history of rock and roll. KISS is a band known as much for their spectacular stage shows as their catchy rock and roll anthems, and they have made an incredible impact on rock music. Their bassist Gene Simmons is often considered to be the band's driving force, and his stage antics are a large part of that. With his freakishly long tongue and penchant for spitting up blood on stage, Gene Simmons embodies all the taboo qualities that give rock and roll its subversive edge. This article will highlight the major Gene Simmons bass guitars that have helped make KISS such a phenomenon.
The Main Gene Simmons Bass Guitars
The major bass guitars that have helped make Gene Simmons a cultural icon are described below.
Gene Simmons Axe Guitar - This guitar is certainly the guitar that Gene Simmons is most commonly associated with. Created by Kramer especially for Gene, the Gene Simmons Axe Bass is the quintessential heavy metal guitar. Shaped like an old English executioners axe, this bass is so realistic looking you'll want to be careful not to cut yourself on the blade! There were less than one thousand of these basses manufactured, so they are now highly collectible. The bass has a single humbucker pickup, an aluminum neck, one volume knob and one tone knob. The instrument should bear Gene's signature to be official.
Gene Simmons Punisher - Next to the Axe bass, the Punisher is the second most popular of the Gene Simmons bass guitars. This bass is stunning to look at. It has a custom pointed body shape, a glossy black finish, an ebony fretboard with diamond inlays and chrome hardware. The body of the bass is mahogany, and it features EMG active pickups and a three way pickup selector. Like the Axe bass, Gene signed all the official Punisher basses.
Spector Guitar - This instrument was commissioned by Gene and has some classic design elements including an inlay of his face on the headstock and a truss rod cover inscribed with Gene $immons. This bass was Gene's principle guitar on the Love Gun and Alive II tours.
Other Items of Interest
While the following items are not musical instruments in the technical sense of the word, they will certainly be of interest for anyone who loves Gene Simmons.
Gene Simmons Axe Guitar Playstation - A 21st century variation on the idea of a Gene Simmons bass guitar is the Gene Simmons Axe Playstation bass guitar. This device looks just like Gene's original Axe guitar, but it is designed to work as an interface with the two popular video games Rock Band and Guitar Hero. The Playstation Axe guitar has a b-directional strum bar, fret buttons and a whammy bar. If you're a KISS fan and love to play Guitar Hero or Rock Band, this is a must have accessory for your game system.
Miniature Axe Bass Replica - If you can't get your hands on a real Axe bass guitar, consider picking up one of these miniature replica Axe bass guitars. Designed to resemble the full-sized bass, this item looks remarkably similar to Gene's famous guitar, only much smaller. While it isn't a musical instrument, it is a very cool collectible item that all Gene Simmons fans should consider picking up.
What's Next?
Gene spends more time these days on his reality show than with the band, but he has never left the limelight and likely never will. Who knows what kind of Gene Simmons bass guitars might be unveiledwhen KISS hits the road again? Stay tuned to see what happens.