Guitar Music by Camargo Guarnieri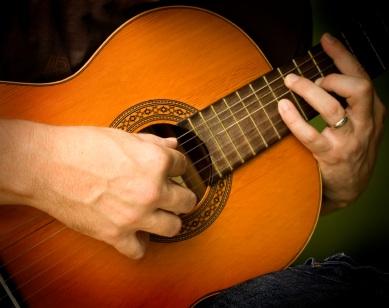 Are you a fan of guitar music by Camargo Guarnieri? This incredible composer has written some of the most beautiful classical music of the 20th century. LoveToKnow Guitar has researched the history of Guarnieri's music, located some of the best recordings of guitarists playing his compositions and even found some great sheet music for musicians who aspire to learn his most famous pieces.
Background on Classical Composer Guarnieri
Camargo Guarnieri was a Brazilian composer born in Sao Paulo in 1907. He was originally given the first name of Mozart, but decided to adopt Camargo, the maiden name of his mother. After all, the line of work Guarnieri pursued, classical music composition, already had a Mozart! Guarnieri composed operas, orchestral symphonies, concertantes and instrumental chamber music. During his most prolific years, Guarnieri's works were performed throughout the world and were extremely popular in Europe and across the United States. Camargo Guarnieri died in Sao Paulo in 1993 leaving an impressive collection of classical music behind.
Recorded Guitar Music by Camargo Guarnieri
Interestingly, Camargo Guarnieri did not compose any music for the guitar during his lifetime. In addition to several operas, Guarnieri's compositions were primarily written for piano and violin. However, several of his songs have since been arranged for the guitar. These guitar pieces have been performed and recorded by some of the most accomplished players in the world. Listed below are some memorable recordings of Guarnieri's music as performed on the guitar.
Camargo Guarnieri Guitar Sheet Music
The following resources are provided for those who wish to find sheet music of Camargo Guarnieri's compositions. The links listed below will take you to Sheet Music Plus where you can purchase these selections. While some compositions are specifically arranged for the guitar, others are arranged for piano but could be modified by a skilled player to be performed on guitar.
More Info for Guitarists Interested in Camargo Guarnieri
As with most music from world renowned composers, the songs of Camargo Guarnieri are not written with the beginner in mind. The fact that majority of this Brazilian composers' work is still recorded for instruments other than the guitar is a double edged sword for guitarists. On one hand, it is much easier to find recordings and sheet music for Guarnieri's music if you are a pianist or a violinist. On the other hand, this lack of recordings and arrangements of guitar music by Camargo Guarnieri allows guitarists more freedom to take these compositions and interpret them as they see fit. The opportunity this provides accomplished musicians is both challenging and full of creative potential.