Guide to Rickenbacker Steel Guitars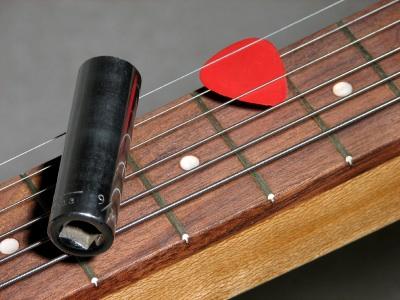 Discerning slide guitar players have traditionally found the Rickenbacker steel guitar to be one of the most desirable instruments of this type. Rickenbacker is a company with a reputation for high quality, unique instruments and excellent sound, and their steel guitars are no exception. This article will introduce you to these fine instruments and give you tips on finding one for yourself.
The Rickenbacker Steel Guitar Story
The history of steel guitars from Rickenbacker goes back to the earliest history of the electric guitar. In the early 1930s, George Beauchamp, an acoustic steel guitar player, sought a way to build an instrument that was louder and more modern than the simple slide guitars he was playing at the time. He started experimenting with guitars that had a metal resonator cone inside them to amplify the sound and later moved onto a guitar that had an electro-magnetic pickup inside. The first electric guitar ever produced was one of Beauchamp's inventions, and it was nicknamed the Frying Pan because of it's shape.
These Frying Pan guitars were the first Rickenbacker steel guitars,and these instruments were inspired by the traditional Hawaiian guitar music that was popular at the time. The luthiers who manufactured these guitars would stuff the bodies and necks with newspapers, and today they are often dated by looking at these papers, making some of these guitars musical time capsules.
Built from the 1930s to the 1970s, two scale lengths were offered over the years, 22.5 and 25 inches. The early models were known as the A line, and they were produced from 1934 until 1958. The B line of steels was made from 1935 until 1971. The most popular steel guitar Rickenbacker produced was the Bakelite Model B. This unique guitar was actually molded out of a hard plastic and was decorated with five different chrome plates on the top. Earlier models had a volume knob only, and later models had a volume and a tone knob. These guitars have spanned a long history of American music, starting with the Hawaiian sounds of the 1930s and continuing until today where they are used in genres as diverse as rock, country, psychedelic and folk.
Where to Find this Guitar
Since these guitars aren't made anymore and they are considered by many players to be the finest steel guitars ever manufactured, finding one can be a bit of a challenge. Many of the models are still reasonably priced, but some of the earliest Frying Pan models are very collectable and command a premium. Some of the best places to begin your search are the following.
eBay - Everybody loves ebay, and why not? You can find anything your hear desires here, including old Rickenbackers. This link will take you right to a search for Rickenbacker steels.
Guitar Vintners - This Orlando based company specializes in vintage guitars and amplifiers, and they often have some great deals on steel Rickenbackers.
Elderly Instruments - Another great online retailer for musical instruments is Elderly. They carry high quality instruments. and their website is truly a thing of beauty. Any instrument they sell is extensively photographed and described.
Timeless Quality
The steel guitars made by Rickenbacker are on par with the electrics and basses that have made the company famous. Some of these instruments are going on 80 years old, and they are still making beautiful music. If you're interested in buying a steel guitar, you should really track down a Rickenbacker and play it before you decide to buy something else. They didn't earn their stellar reputation for nothing.