Easy Acoustic Guitar Tabs
Using easy tablature is a great way to start exploring the acoustic guitar and all of its wonderful sonic capabilities. With the acoustic guitar, you have no tricks or gimmicks and no sound effects and amplification to rely on. Instead, you just have your fingers and what's in your heart and mind. With the relative ease of these simple tabs, you're on your way.
Blues Progressions
You ain't no guitar player if you can't play the blues, or so the saying goes. America's original art form, the blues, is one of the most vital parts of the musical language. With the blues, you can converse with other musicians. You can jazz it up, rock and roll it, and even take it to the country. The following examples are relatively easy as they are all in the key of A or A minor and use melodies in first position along with simple chord forms to illustrate the tunes. Play them slow, medium and fast and vary your rhythms and feels. To download, click on the thumbnail. For help with printables use this easy guide.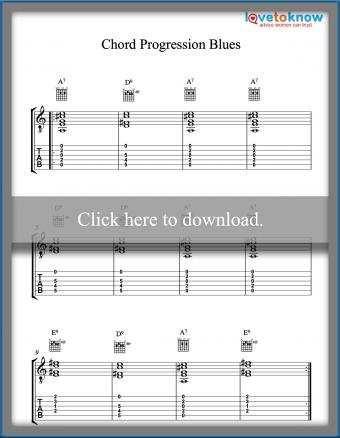 Taking the Boulevard
Green Day's Billie Joe Armstrong has written quite a number of top hits, and his Boulevard Of Broken Dreams is a deep and poignant look at loneliness. Musically, it offers a wonderful chord progression and a strong, haunting, and memorable melody. Use this version to interpret the song your way acoustically.
Holiday Acoustics
We Three Kings is a holiday favorite that is basically a minor blues with a bridge. This version focuses on the A section of the song and offers a great vehicle for improvisation. Put on your jazz and blues hat, get together with some friends, and jam on this one.
Online Resources
The five sources listed here are a great start to expand your acoustic guitar repertoire and offer a variety of easy to read and play songs in many styles.
Print Resources
To go further in depth, many of the top sheet music and educational publishers in the music industry including Hal Leonard, Alfred, Mel Bay, and many others offer standalone and entire series of educational books and song books that are either entirely in or include tablature. Sometimes there's no substitute for that old-fashioned fancy book learnin', and these well-established companies offer outstanding and tried-and-true methods and materials for improving beginner guitarists.