Over the last century, Ibanez guitars have acquired a solid reputation based on quality materials, superior sound and economic pricing. Salvador Ibanez opened his first guitar shop in Valencia, Spain in 1870, in which he crafted an array of guitars renowned for their pure quality and outstanding craftsmanship. The resulting early and mid-20th century instruments soon became some of the world's most sought after guitars. For those with an interest, and a little patience, these amazing guitars can be bought for much less than other famous vintage instruments.
Notable Vintage Acoustics
1958 Ibanez Salvador Archtop
Ibanez's 1958 Archtop boasts premium woods constructed in just the right shape to project the guitar's clean and pure sound. The classic look of the sound board and body brings elegant Spanish music to mind, but the instrument's fret board and headstock, sporting bright green mother-of-pearl inlays, make it truly unique.
This guitar is one of the earliest archtops made in Japan, and is an extremely rare find. The best route towards obtaining one is to check online auction sites or to go through a vintage guitar dealer.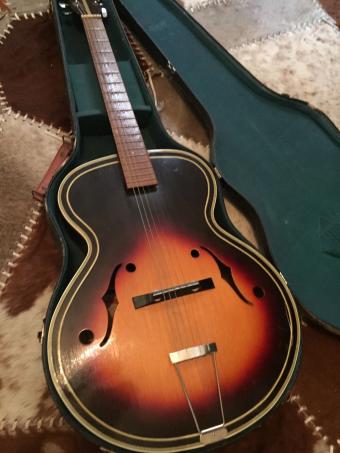 1960 Ibanez Salvador 530
This folk/classical acoustic guitar features a body crafted of solid spruce and laminated mahogany for optimum sound and projection. Other fine details include intricate binding along the guitar's perimeter and opulent mother-of-pearl inlays along the fret board. Its slender and slightly curved neck aligns well with the player's body to increase comfort while playing.
Much like the '58 Archtop, this guitar can rarely be found for sale. Auctions and vintage guitar dealer searches could possibly land you one, though.
1975 Concord Jumbo 698
Based on the design of the Gibson J-200, this vintage acoustic Ibanez dazzles the eye with an amalgam of rich spruce, rosewood and mahogany combined with a beautifully detailed holographic scratch plate. The rosewood fretboard sports mother-of-pearl inlays and is fully adjustable.
This model is a little easier to find than its older counterparts through auctions and guitar dealers, though buying one is still no simple task.
1981 R400 Ragtime Special
Returning to their foundation of originality, Ibanez guitar manufacturers produced the Ragtime Special in 1981 to showcase both style and function. Intricate details adorn the spruce and mahogany body, while the 24-fret neck allows players to reach the higher notes characteristic of ragtime music. The guitar's smaller body size makes the instrument a breeze to handle while still producing brilliant sound.
The Ragtime is another rare find for vintage guitar collectors. Most people who end up with one find it in a relative's closet or have some similar story. However, they can be had from time to time through a used guitar sale.
Vintage Ibanez Electrics
1977 Rocket Roll 2387CT
In order to remain competitive during the 1970s-era surge of electric guitars, Ibanez produced several versions of the "flying V" style made popular by Gibson Guitars. Sporting a gorgeously grained solid ash body and laminated maple neck, the 2387CT offered stylish elegance combined with superior sound quality, making this one of the most popular Ibanez vintage guitars.
The Rocket Roll can be found relatively easily. Sites such as Rebel-Guitars.com have had them listed in the past, and others pop up for sale fairly frequently. If this is an axe you're thirsty to own, show a little persistence and it can be yours.
1978 Bob Weir Professional 2681
This model was made specially by Ibanez designers for Grateful Dead guitarist Bob Weir. It features high end details like a book-matched ash body, ebony fingerboard and gold hardware. It's most unique design feature is the switchable single coil pickup book ended by two humbuckers.
This vintage gem is much easier to get your hands on these days. Various websites such as gbase.com offer used versions for sale.
1987 JEM
The original JEMs were a visual revolution when they were introduced in 1987. Created as a signature series for famous shredder Steve Vai, these day-glo beauties made quite a ripple in the guitar community. They feature basswood bodies and come in different combinations of neon green, yellow and pink. The most striking detail is the monkey grip handle cut into the body that allows the guitarist a handy place to grab onto the instrument and fling it around.
The JEM isn't your run-of-the-mill "vintage" guitar, since it is still widely produced in varying models to this day. This fact is a testament to the instrument's popularity, though. To find these guitars locally, use the Ibanez site's Find a Dealer feature.
Beware Reproductions
It's important to note that sometimes guitar companies produce new versions of vintage designs due to popular demand. If you're in the market for a vintage Ibanez, make certain that you're buying an actual vintage guitar rather than a reproduction of an earlier model. Most reputable vintage dealers supply customers with model numbers or other forms of documentation to authenticate their purchase. If in doubt, conduct some research to support your dealer's claims.
Unique and Rare Guitars
Today, vintage Ibanez guitars remain highly desirable both as fine musical instruments for musicians and as collector's items. Regardless of what your intention may be for owning one they are sure to be conversation pieces. Though some are extremely rare, others can be found without too much time and effort. If you're interested in vintage style and tone and have a desire to own a unique six-string, check out the options Ibanez has to offer.