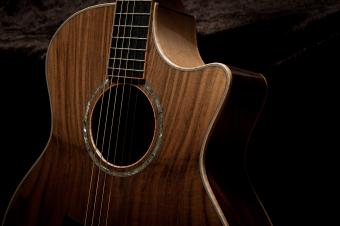 Ovation guitars are some of the most beautiful instruments on the planet and just one glimpse of the Ovation website will convince you of this. It's not hard to see why when you learn the unique back story of one of the most innovative companies in the guitar market.
The Ovation Guitar Story
In contrast to other guitar companies such as Fender and Gibson, Ovation is a relatively young company. It didn't appear on the scene until well after the guitar revolution had begun in popular music.
1964: Charles Kaman's aeronautical engineering company, Kaman Corp, loses an important defense contract. Around the same time, Charles Kaman travels to Martin's guitar factory in Pennsylvania to get his warped guitar neck fixed. While there, he sees ways to improve guitar production and offers to buy Martin Guitars. Fred Martin declines the offer. Kaman Corp needs new revenue sources, however, so Charles decides to launch a guitar company and apply his aeronautical expertise to reinvent acoustic guitar construction. Ovation Guitars is born.
1966-1966: Kaman invents a revolutionary new way to make acoustic guitars. Using his aeronautical engineering knowledge of the manipulation of vibrations in helicopter blades, he devises a way to increase and shape vibrations in the wood of acoustic guitars to enhance the sound. He creates a rounded fiberglass back, made of the same material as helicopter blades, and combines it with laminated sprucewood.
1966: Ovation makes its first guitar and introduces it as the "Balladeer" the following year.
1971: A few years later in 1971, preamps, EQ settings, and pickups that reduce feedback are added to lure the interest of musicians who have constant problems with feedback during their live shows.
1977: Ovation introduces its graphite-faced Adamas acoustic guitar with offset sound holes on their guitar tops.
1981: Ovation's popularity soars in the music world. Kaman Music, the guitar branch of Kaman Corp, is now making $20 million in annual revenue, 3 percent of the Kaman Corp's earnings. The company employs 100 workers, and they produce 72,000 guitars a year.
1980s-1990s: A slump in acoustic guitar sales in the early '80s causes some in Kaman Corp to consider selling Ovation, but Charles Kaman refuses and believes the market will bounce back. This happens soon after, and the '80s turn out to be the most popular time for Ovation Guitars. The guitar's low feedback and strong sound make it the guitar of choice for dozens of high profile musicians, from Paul McCartney to Melissa Etheridge.
2007: Fender buys Ovation from Kaman Corp for $117 million.
2011: Charles Kaman, founder of Ovation, dies in Bloomfield, Connecticut at age 91.
2014: Fender closes the original plant in New Hartford, Connecticut, and relocates Ovation production outside of the United States. Fender will continue making the high quality guitars in China, South Korea, and Indonesia, but they will no longer be American-made. One of Ovation's workers calls it the end of an iconic American brand.
October 2015: Drum Workshop (the maker of DW drums) buys Ovation from Fender and returns Ovation's production to its original plant in New Hartford, Connecticut. The news causes jubilation among guitar enthusiasts. Ovation resumes its original classic line of Adamas and Ovation guitars and produces a new line for the Applause model.
The Cultural Phenomenon of Ovation
Ovation's innovative design from the mind of an aeronautical engineer has attracted a fiercely devoted following of Ovation fans that has endured even afters its peak popularity in the 1980s. The guitar has its own fan club and hobbyist historians who have gone so far as cataloguing a history of the labels inside Ovation guitars.
Besides hobbyist musicians love the instrument, the following artists have used it at some point in their career, as another Ovation fan site notes:
John Lennon
Bob Marley
Chet Atkins
Cyndi Lauper
Glenn Campbell
Eddie Van Halen
Kaki King
Paul Simon
Shania Twain
Shakira
Steve Vai
Melissa Etheridge
Ovation has found such a following in popular culture that the writers of the hit TV show Lost included an Ovation guitar in its opening episodes when Dominic Monaghan's character Charlie Pace searches for his beloved guitar following the crash of the Oceanic 815 airliner--a clever writing decision, considering the guitar is made from aerospace-level composite materials.
Ovation Guitar Models
Ovation currently offers three models with different variations available within each model.
Adamas
Adamas models feature off-center and uniquely-shaped tear drop and bear claw-shaped sound holes near the neck and other features such as:
A range of depths, from mid-depth to deep contour
Choice between cutaway and non-cutaway
A carbon-fiber graphite top
An electric guitar version of the Adamas style called the Viper, which is a tribute to the original Viper released decades ago. The new Viper has a chambered basswood body, humbucker pickups, and stainless steel inlays that are a throwback to the original Viper.
Some of the other Adamas guitar models include:
Adamas GCF Shallow Series: One of Ovation's most stunning guitars in its visual design, it features unique bear claw soundholes, carbon fiber top, OP-PRO Studio Preamp, and the Adamas ultra thin suspended top that produces highly responsive vibrations. It sells for about $2,899 new.
Adamas GCF Deep Contour Series: For the same price as the Shallow version of the GCF Series, the Adamas Deep Contour shares the same features but it has a deeper body with a bolder sound.
Ovation
The classic Ovation model includes several celebrity signature series in its lineup. The Ovation guitar has the following unique features:
Its trademark Multi-soundhole and the "F" soundhole, which feature different sized soundholes offset near the neck of the guitar with beautiful visual patterns arranged around each soundhole.
Choice of six-string, twelve-string or even its unusual eight-string guitar that has two bassy low strings below the usual standard low E string.
Celebrity-inspired Ovation guitars designed with input from big-name artists. These include unique guitar models for:

Glen Campbell
Kevin Cronin
Phil Demmel
Melissa Etheridge
Kaki King
Yngvie Malmsteen
Dave Amato
Some of the other Ovation guitar models include:
Custom Elite: The legendary original Ovation lives on in this model that features a Super Shallow rounded back that helps it sound amazing plugged or unplugged, a gorgeous multi-soundhole configuration and inlaid exotic wood epaulettes on the neck that adds to its visual beauty. It retails for about $2,499 new.
Custom Legend 50th Anniversary Folklore: Released in 2016 as a 50th anniversary tribute to Ovation's launch year of 1966. This beautiful acoustic, which sells about $3,499.99 new, has a center soundhole, a beautiful wood grain on the top, a nuanced trim around the body, and a Handlaid Lyrachord Contour.
Applause
The new Applause line has the traditional beloved Ovation features as well as some new ones, and it features guitars that are in a lower cost range--some below about $500:
Choice of three stunningly beautiful top styles: spruce, exotic veneer or cedar
Abalone inlaid rosette
Scalloped-X bracing
A slimmer, more attractive headstock design
An Ovangkol finger board and bridge
A mid-depth bowl
Choice between a center soundhole or the offset "Multi-soundhole"
Choice between six-string, twelve-string, steel-string and Classical nylon string
Choice between built-in electronics or no electronics
Some of the other Applause guitar models include:
Applause Elite Plus: Ovation's lower cost guitar, retailing around $349 new, features the trademark laser-cut multi-soundhole look, a simple but beautiful cherry top, satin natural neck and pearloid inlays.
Applause Balladeer Natural: One of Ovation's most affordable guitars, about $199 new, it is also one of its most traditional looking guitars. It has a center soundhole like a traditional acoustic guitar, but it has the trademark Ovation rounded back and cutaway near the neck.
Where to Buy
The following stores are some of the best places to locate quality Ovation guitars.
Ovation Official Site
Ovation's site doubles as an online guitar store, and it features prices and ordering options so that you can get your Ovation straight from its maker. For example, its new Collector's Series Legend Plus Sapele-style Ovation is listed for about $1,299. Its prices are the same prices you will find at other retailers selling new Ovations. It does not sell used versions at cheaper prices as online retailers do.
Sweetwater
Sweetwater consistently has a nice variety of Ovation models such as the 50th Anniversary Folklore with as many as 48 pages of Ovation guitars at times. The prices are not much different than standard retail prices you'd find at Ovation's site or other guitar stores, but the site offers financing if you'd rather pay for the guitar gradually.
Guitar Center
Guitar Center's selection of Ovation is fairly large--close to 200 Ovation guitars listed at times--and it offers used, cheaper Ovations in its "Used Gear" section. However it doesn't have used versions for every model. Although its inventory fluctuates and doesn't always have the used selection that Reverb has, if you're a loyal Guitar Center shopper, you will be pleased to know that the store at least offers a decent-sized selection of Ovation.
Musician's Friend
Another popular musical instrument retail site, Musician's Friend offers both used and new Ovations, but it doesn't have the high volume of Ovation selection as Reverb or Guitar Center, and their prices are close to the other sites. However, it's a good place to check if you haven't been able to find the model you're looking for elsewhere, and it has an excellent site design that allows you to see subcategories that show their Ovation inventory by price range, customer rating, type, condition and others.
Ovation: A Unique American Icon
The Ovation guitar is a classic made-in-America story that offers a refreshingly innovative approach to everything it does. If you're tired of the same old approach to guitars, Ovation will give you something different just as it has done for many of the best guitarists.